The main advantage of e-commerce over brick-and-mortar stores is undoubtedly the ability to sell products to buyers from any spot of the Earth.
But how useful is knowing precise geographic details of your customers?
In this article, we will find out how to extrapolate geographic data from your ecommerce business with the help of Rfmcube and how to use it in your marketing campaigns.
Geographic segmentation – what fields are required
The very first thing you are to do in order to segment your customers on a geographical basis is to enter Rfmcube in Settings >> Metafields and select the additional Customers and Orders fields that you need.
Depending on the type of CMS you are using, the fields can have slightly different names, below we list the main ones:
Language (id_lang)
Identifies the language chosen by the customer to proceed with his purchase made in multilingual sites.
Domain
Similar to the Language field, it identifies the domain where the order was placed (e.g. site.de identifies the German version of site.com)
Currency
The currency in which the transaction was made is useful for identifying sales outside the European Union.
To these rather general fields, more specific fields related to the shipping and billing customers' addresses are added.
Shipping and Billing Addresses often contain basically the same fields. As usual Shipping address is more reliable, as it identifies an address where the goods were actually shipped, and it is constantly updated by customers (e.g. if they change residence).
On the other hand, a customer could choose to make a gift by indicating a different Shipping address and in that case it would be preferable to use the Billing address, so it is necessary to think about which of the 2 addresses is the best to refer to.
Both addresses have the following additional fields:
Nation
The shipping / billing country
Company
The name of the company that made the purchase (for the B2B sector)
Postcode
PO Box postal code
City
The shipping/billing city
Region
Shipping/billing region in initials format
Phone
The telephone number associated with the order
If you are using a CMS such as Magento 1 and 2, Woocommerce or Shopify, or are on a custom site, you will see that the fields are placed inside INVOICE_ADDRESS and SHIPPING_ADDRESS entries by default.
If you are using Prestashop, shipping/billing addresses will not be displayed by default, the you should simply install and activate our free Prestashop extension.
Geographic segmentation – segments creation by Nationality
Let's see how to group customers by country of origin with building segments in Rfmcube.
In the image below, you can see a new customers segment created, it includes those customers who made their first purchase less than 3 months ago and entered Germany (de) as their "Shipping Country".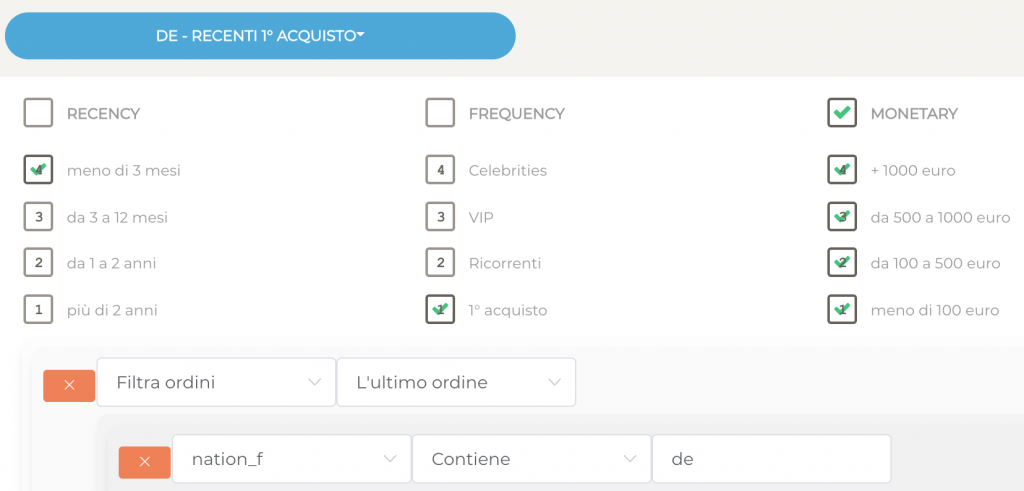 The alternative, similar but not the same, is to use the 'Domain' field where the order was placed: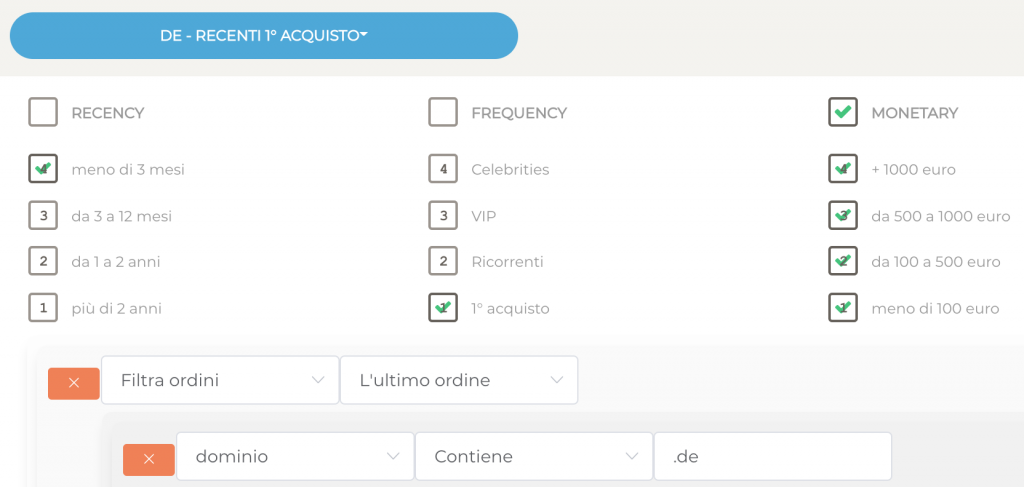 Between the two above-mentioned solutions, the use of the 'Nation' field is much more specific, as obviously there cannot be a multilingual version for all nationalities.
However, if you want to create sets that include all nationalities sharing the same language, it is preferable to use the 'Domain' field.
For example, if you sell products all over the world by choosing the .es domain, you can intercept all users shopping on your Spanish-speaking site in one fell swoop, including people who speak Spanish but live in other countries, who will instead be excluded. using the 'Nation' field as a filter.
In this way, you will be able to activate personalized email marketing campaigns based on geographic origin, as in the welcome email below, where new German customers are given a series of welcome discounts at threshold prices: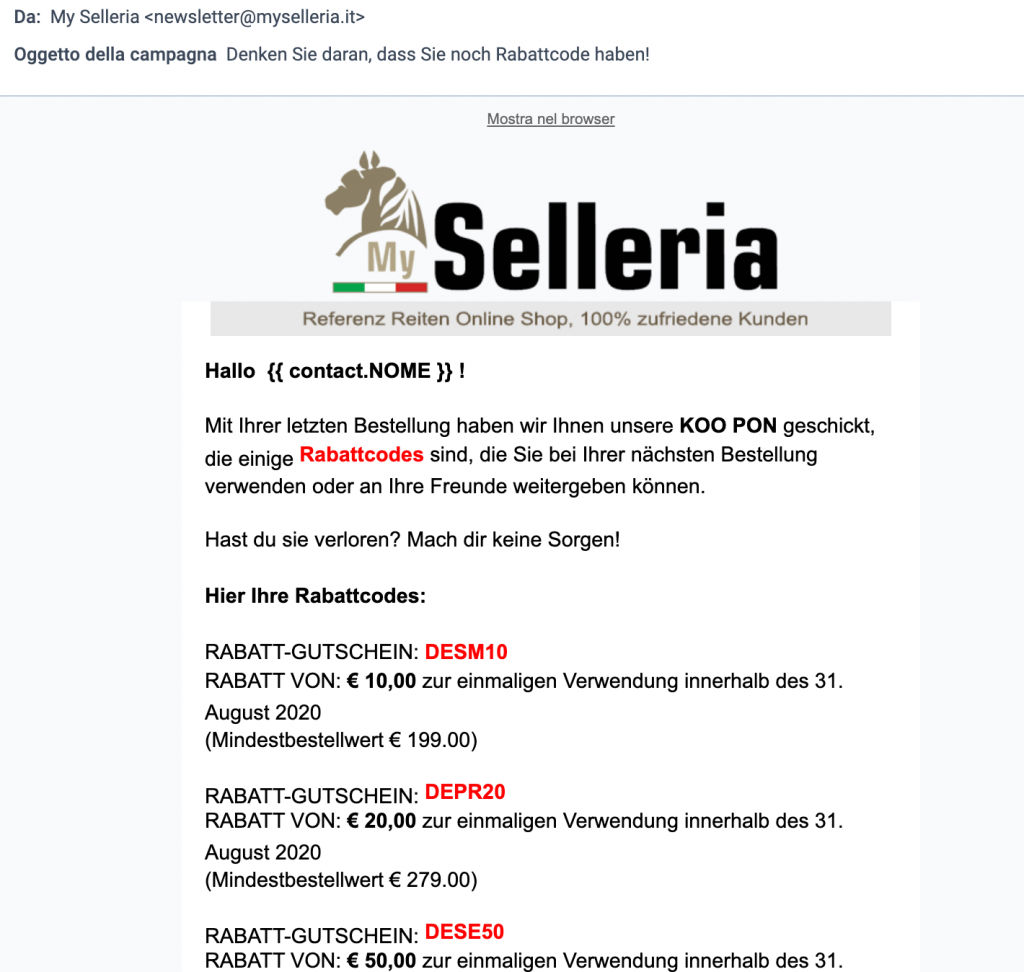 Geographic segmentation – segments creation by Region
Another widely used method of geographic segmentation is the one obtained using the Region field, often indicated within the CMS as 'Province'.
Identifying customers from one or more specific Provinces is useful from a multi-channel perspective for promoting brick-and-mortar offerings, initiatives and activities in the area, as well as for offering services such as making a purchase online and picking it up at a store.
In the segment below, you can see the display of customers who have purchased women's shoes in the last 15 days with delivery to the province of Milan.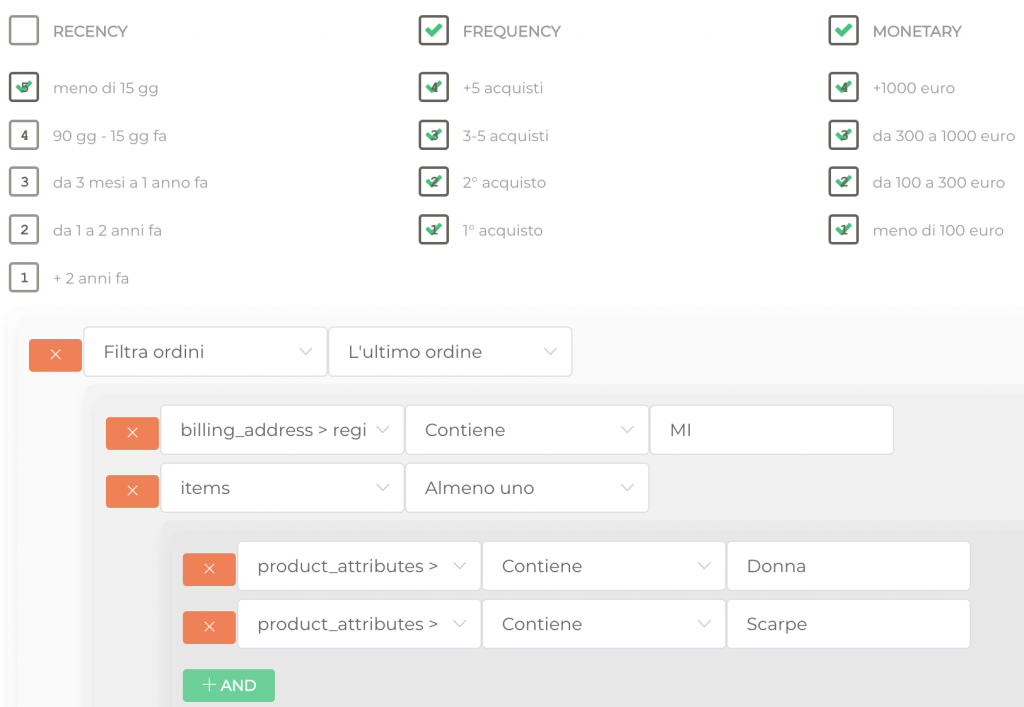 In the email below, there is a promotion sent out by e-commerce headquartered in Rimini. It is supposed to be used in-store only for residents of the provinces of Rimini, Forlì Cesena and Ravenna: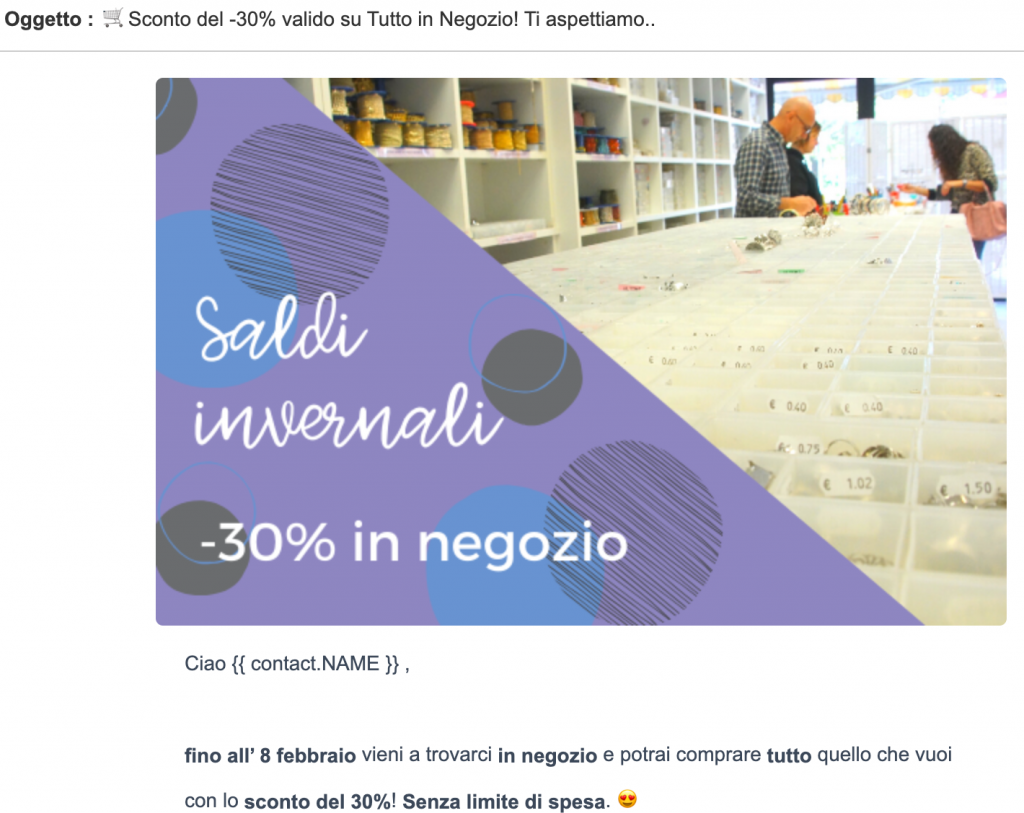 Conclusions
Segmenting your customers on a geographic basis can have very positive effects on your way of marketing.
It allows you to take advantage of the multi-channel system for the promotion of physical points of sale and to welcome customers from other countries with versatile personalized messages.
With Rfmcube you can figure out the fields you need in a few simple clicks, and integrate them with your marketing software to boost and give life to your Campaigns.