in collaboration with the partner agency: Ecommerce School d.o.o.
The Problem
GoCamera.it is an Italian leading E-commerce site specializing in the official resale of GoPro branded products.
GoPro cameras are complex and feature-rich products; for this reason GoCamera characterizes its offer by promoting value-added services such as online and classroom training courses, dedicated support and a wide range of compatible accessories for all occasions.
 
Here arises the need to promote its offer to new customers who are approaching the GoPro universe for the first time, with Cross-Selling offers targeted on the model purchased.
 
The Solution
The integration with Rfmcube made it possible to design a marketing automation system and encourage new customers to discover the vast offer provided by Gocamera.it.
Customers were divided according to the GoPro camera model purchased (GoPro Hero8, GoPro Max etc.) and the region of origin (shipping address). 
By synchronizing the segments found with the Sendinblue email marketing software, we managed to activate a series of customized scenarios after the 1st purchase:
after 1 day: sending the free ebook "Guide to photography with GoPro"
after 2 days: presenting the "GoCamera VIP" points program
after 4 days: offering insurance on the purchased model
after 14 days: offering accessories compatible with the model (supports, rods, suitcases, etc.)
after 21 days: offering a paper book "The GoPro Bible" with 25% discount
after 25 days: presenting courses and events closest to the area (shipping address)
In such a way the follow-up sequence continues in order to encourage new customers to discover the world of GoPro.
 
Results
The test, carried out on a sample of 2,796 new customers, produced significant results:
10.9% email click-rate (10 times the general average rate)
6,81% Conversion rate (+ 5 times higher than the average of the Email Marketing channel)
42 sales of related products in the first 30 days of purchasing a GoPro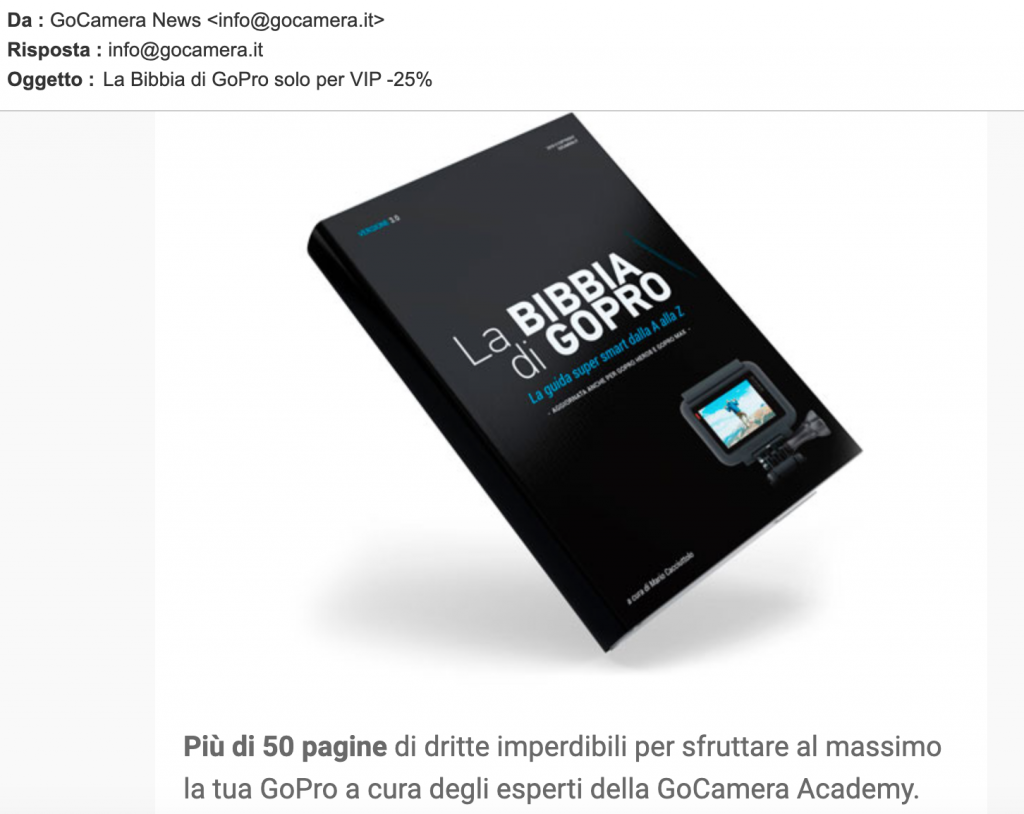 Then we came up with a fact which could be misinterpreted on a quick reading:
– 82% Average Order Value (40.8 euros compared to an average general receipt of 235 euros)
-82%?? Has something gone wrong?
It has turned out that the data does not necessarily seem to confirm the effectiveness of the Cross Selling campaign.
The situation is the target customers have just made a large purchase (the GoPro camera) and it is unthinkable to demand the same financial outlay from them in such a short time.
At the same time they are offered value-added services and accessory products at a lower price, to increase the customer's profitability in the immediate future and lay the foundations for long-term loyalty.
However, what is truly amazing about the integration is the aggregate data compared to the period during which GoPro did massive and unsegmented email marketing: the email marketing channel had compared to the previous 6 months:
a Revenue increase of +42%
+44% Conversion rate
a frequency decrease in Bounce rate -811%