in collaboration with the partner agency: Up&Up Srl
The Problem
Relaxsanshop.it is an online shop specializing in sale of high quality elastic stockings and underwear.
The increase in traffic and amount of new customers has made it urgent to adopt Retention Marketing measures aimed at encouraging customers to buy back, i.e. sending them targeted offers based on what they have previously purchased.
The Analysis
Rfmcube has been integrated with the Shop and allowed to find out that:
65% of customers have not bought for at least 1 year
79% made only one purchase
on average, recurring customers make a purchase once every 210 days
It was therefore decided to create a Win-back campaign with a focus on Hibernated customers who have not made a purchase for more than 1 year and represent 65% of the entire customer history.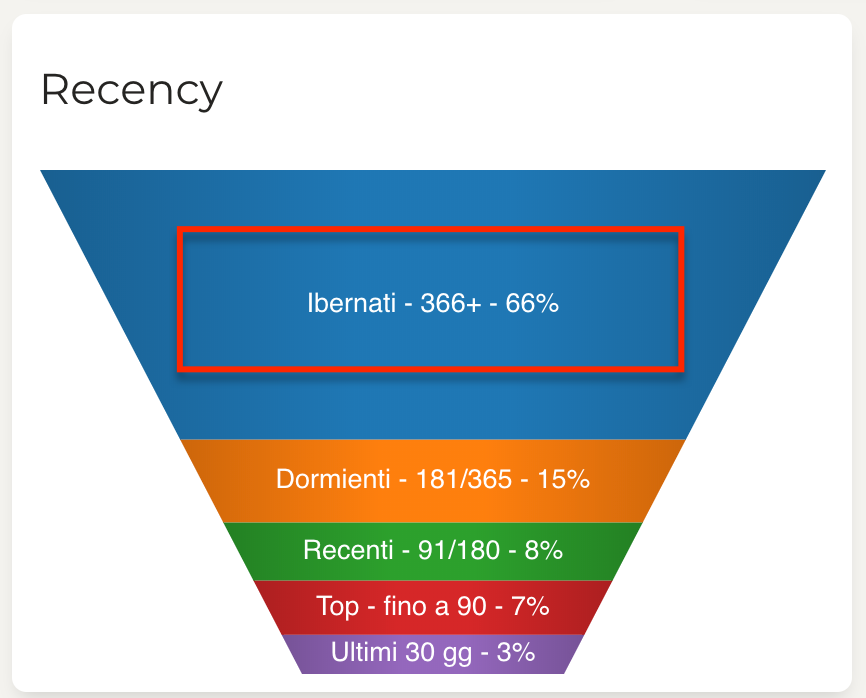 However, customers have different needs and require further segmentation to induce them to buy again.
For this reason it was decided to create 2 Clusters of Hibernated customers, each with its own dedicated Offer:
Hibernates who have purchased Underwear >> are offered a free cream
Hibernates who have purchased Elastic Stockings >> are offered free patches

The segments obtained were synchronized with the Sendinblue Email marketing platform, where the 2 automatic campaigns started.
Spectacular Results
After 3 months of launching the campaigns, we received very favourable results:
73 hibernated customers made purchases again
Average order value above the medium of + 30%
6.4% extra revenue on the total
As a result of the first campaign for our inactive customers, we got 50 big orders made for a total of 3,300 Euros. We started it on August the 6th during off-peak times for our production. It is a great result for us, especially in August! – Michela Ballasina – Ecommerce Manager Relaxsanshop.it