The advantages of using RFMcube for customer retention
Practical applications and software allow you to stay competitive and do business successfully. It is marketing automation that offers the opportunity to increase the impact of e-commerce significantly.
According to statistics, more than 60% of marketing professionals claim the process is too complex (source: casaleggioassociati.it).
And a third of business owners think about finding the right marketing automation solution.
Customer segmentation can help to make your business strategy more effective. Let's first define what it is and how to do it.

What is customer segmentation?
Customer segmentation divides users into several groups based on common characteristics. Based on this data, an effective marketing strategy is created for each customer group focusing on their needs.
Marketing materials for each group are created individually. And client segmentation helps to identify the group's most relevant themes and needs. There are often four basic models that underlie any marketing strategy:
demographic (age, sex, education level, marital status, etc.);

psychographic (personality traits, values, lifestyles, etc.);

geographic (location, climate, population density, etc.);

behavioral (shopping habits, actions on the website, benefits sought).
Why is customer segmentation so valuable? First, it's essential to build strong relationships with the audience. By grouping customers, you can make the buying process more personalized. Customers like to be listened to. Second, using specialized customer segmentation software. You can mark your business and stand out from your competitors.
For example, RFMcube can increase the performance of your campaigns by up to 42% (see Case studies).
Segment customers with a click, integrating every eCommerce and marketing tool. This significantly improves the ROI of your campaigns as it allows customers to be divided based on their purchasing behavior. And also to integrate the results obtained with the leading Marketing Software in total autonomy.
And at last, by listening to the opinion of your clients, you will be able to do the following: 
generate new ideas;

make successful marketing campaigns; 

develop your business;

attract new clients; 

keep those who have been with you for a long time. 
Based on your customers' preferences, you'll never miss out on what's on-trend.
And if you want to perform customer segmentation more effectively, you should pay attention to RFMcube free trial for 15 days. 
Why is customer retention necessary?
In simple terms, customer retention is a company's ability to keep its users for a long time. In this case, customer retention is influenced by two main factors:
The number of new customers acquired over a certain period.

The number of existing customers that "leave" searching for something else.
Of course, retaining existing customers is a very profitable marketing strategy. These clients spend more money on purchases and buy more often than new customers. Besides, they recommend the company to their friends and relatives. Increasing customer retention only by 5% can enhance profits from 25% to 95%!
So why is customer retention critical to a company's growth and success:
It's profitable. It costs a company five times less to keep an existing customer than to attract a new one.
ROI. Even a 5% increase in customer retention helps raise company profits by at least 25%.
Loyalty. Retained customers are worth, on average, as many as ten new customers.
Referral program. Such clients bring their friends and relatives. This helps build up the client base, reducing the cost of the marketing strategy.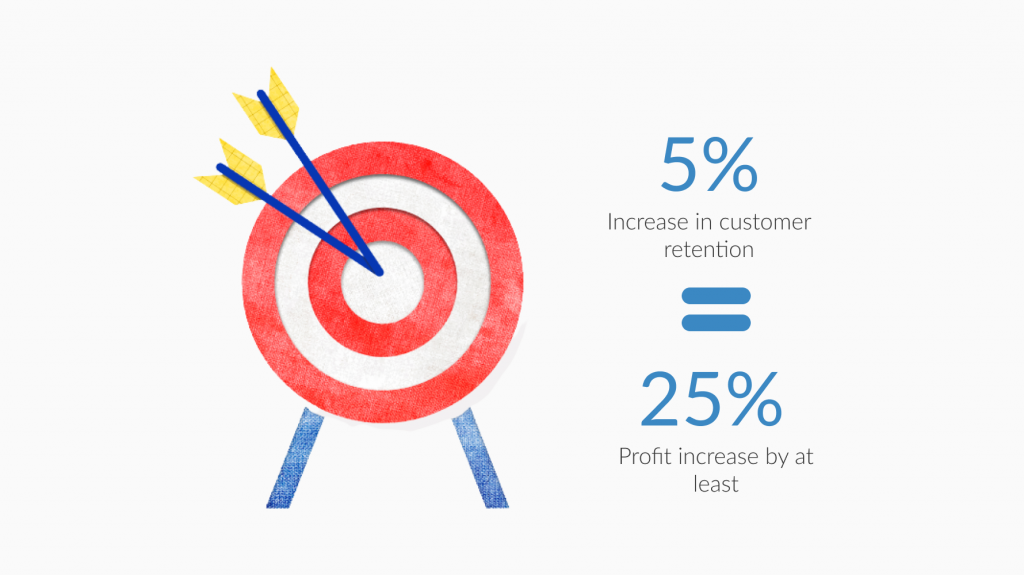 You shouldn't neglect customer retention in pursuit of new customers. Of course, attracting new customers is essential for business growth. But meeting the needs of existing clients is an equally important marketing strategy. 
So how do you keep your critical existing customers? The secret is simple! You need to consider your customers' expectations and communicate with them. Find out what they like/dislike and what they expect from the collaboration. This information allows you to find new growth opportunities and differentiate from competitors.
According to hochmanconsultants.com, the cost of Google pay-per-click campaigns has increased 300% over the past five years. The prices of acquiring new customers have become unsustainable. 
Together with RFMcube, you can more easily and effectively retain existing customers. And to make sure of this, you can use the WELCOME3 coupon, which extends the free trial version for 3 extra months.
What does RFMcube serve for?
Covid-19 has significantly boosted online business. Companies that weren't considering going online have started selling this way. There is an urgent need for simple and effective technological tools to help automate marketing and client segmentation. RFMcube is right. What are you looking for? According to Riccardo Giorgi (Responsabile Comunicazione Molinorosso.com) it is the perfect tool for e-Commerce (see our reviews). 
For which companies is RFMcube designed:
selling B2C / B2B physical products in sectors with recurring purchases (food, clothing, pharmaceuticals, etc.);
Saas services with recurring subscriptions (streaming, gaming, e-learning platforms); 
online booking sites (hotels, tourist agencies, private means of transport); 

sale of info-products (training courses, e-books)
It allows automating the necessary processes.
What does RFMcube serve for? 💡
The platform can help your marketing and increase the efficiency of the business by more than 40%! The application can segment customers and determine an effective marketing strategy. Also, the platform helps improve the ROI of campaigns.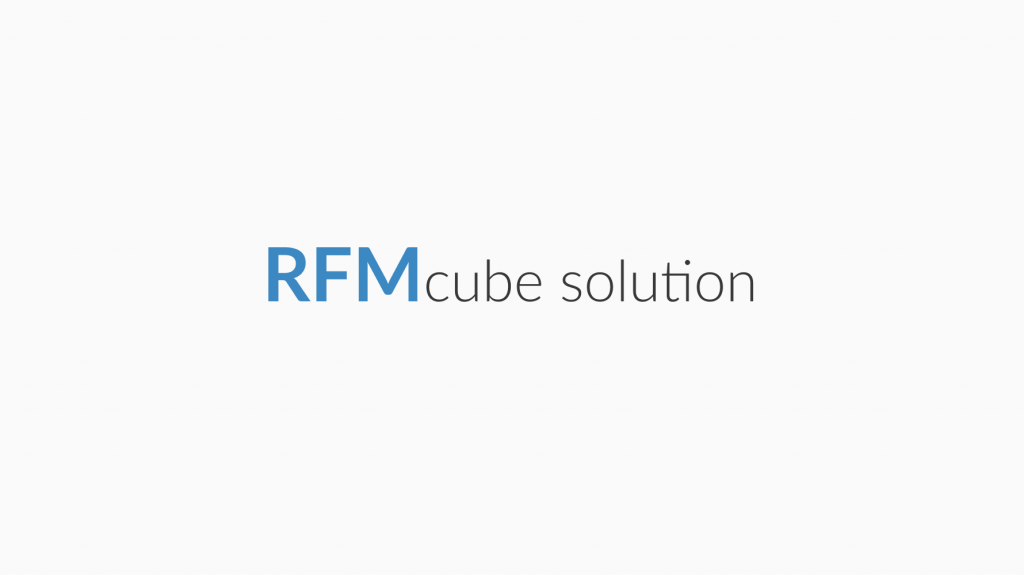 What is the RFMcube solution?
Self-Service integration with the own E-commerce in a few clicks, without the need for technical support.
Absolute freedom to integrate segments of customers saved with marketing tools already being used.
A complete specialization guarantees an Enterprise level solution at a much lower price than the market.
If your company's goals are sales growth and attracting new customers, buying an RFMcube subscription will be a very profitable investment! Apart from that, you can educate yourself on customer segmentation with the help of our ebook. 
All the customers can be divided into three groups based on: 
recency (period since the last time they bought something); 
frequency (amount of shopping); 
monetary value (total sum spent). 
With this data, you can identify the most critical customers who bring the lion's share of the profits. You can work with them further by identifying their main intentions and desires. This data also makes it possible to adjust the work with other client groups. Transform them into critical clients and increase the efficiency of your business strategy!
What's the mechanism of RFMcube?
The main advantages of RFM analysis are clarity and simplicity. This approach is constructive for understanding customer responses. Marketing automation with RFMcube includes the following four simple steps:
Synchronization of e-Commerce. RFMcube must not be spending more. It allows you to connect major CMS for e-Commerce. Implementing CMS with no extra fees only takes a few clicks!
Customer segmentation is based on three main categories. Analyzing this information will help you identify the most critical customers.
Adding more information about your customers. More data will need to be added to define customer needs and expectations. This will help create the most relevant marketing offers for a specific group of clients.
Creating a campaign with a high conversion rate. Data from RFMcube can be integrated into email newsletter software. Selected customers will receive the right messages at the right time.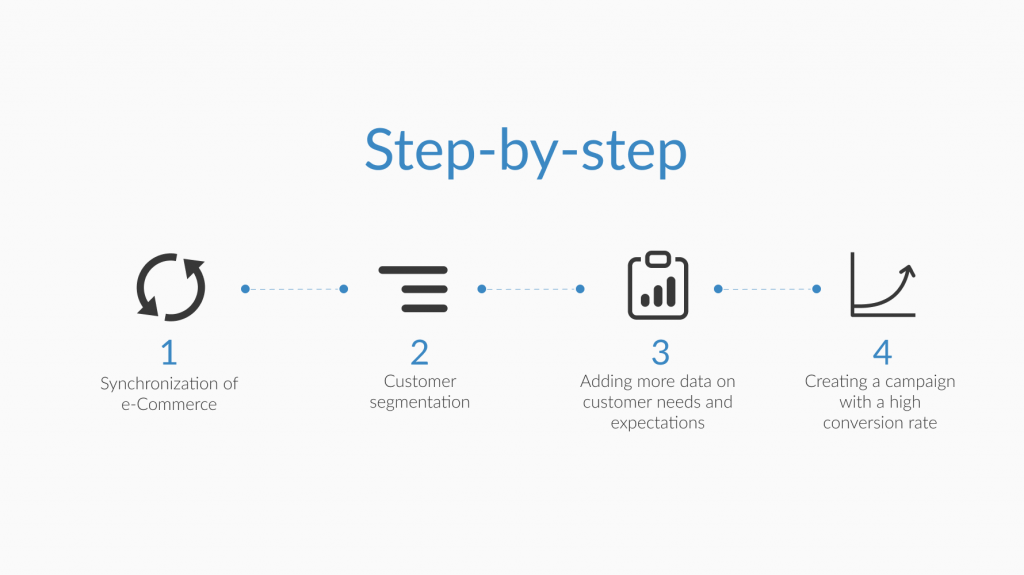 RFMcube is available for companies that work in sectors with recurring purchases or subscriptions (selling food, clothes, hotels, tourist agencies, different courses, e-books, streaming and learning platforms, etc.). For companies operating in sectors where recurring purchases are rare or non-existent, RFMcube isn't practical.
If you still have questions about the mechanism of RFMcube, feel free to order a demo call. We will gladly help you!  
What are the benefits of collaborating with us?
RFMcube is not just an app but also a trusted helper in creating an effective marketing strategy. Do you want to improve the profitability of your business and spend less money? Begin with marketing automation, which will enhance the conversion of your ad campaigns.
RFMcube provides segmentation of your customers in real-time. You can access this data anywhere in the world. Integrating RFMcube with your databases is the first step. Achieve your aims and identify your most crucial marketing segments. Marketing campaign efficiency increases by 42% when you put in place RFMcube! This platform is a powerful and easy-to-use tool that helps you improve your marketing strategy's conversion rate and your business's profitability. 
Why is it worth collaborating with us?
No more costs. You can onboard RFMcube with a few clicks. No need to hire external employees or purchase any other software.

You will be able to track and analyze customer behavior in real-time. Customer segmentation is performed in three main directions: Frequency, Recency, and Money Value.

Integration of the data into other applications. The information and the formed customer segments can be transferred to create effective marketing campaigns (social media, emailing, etc.).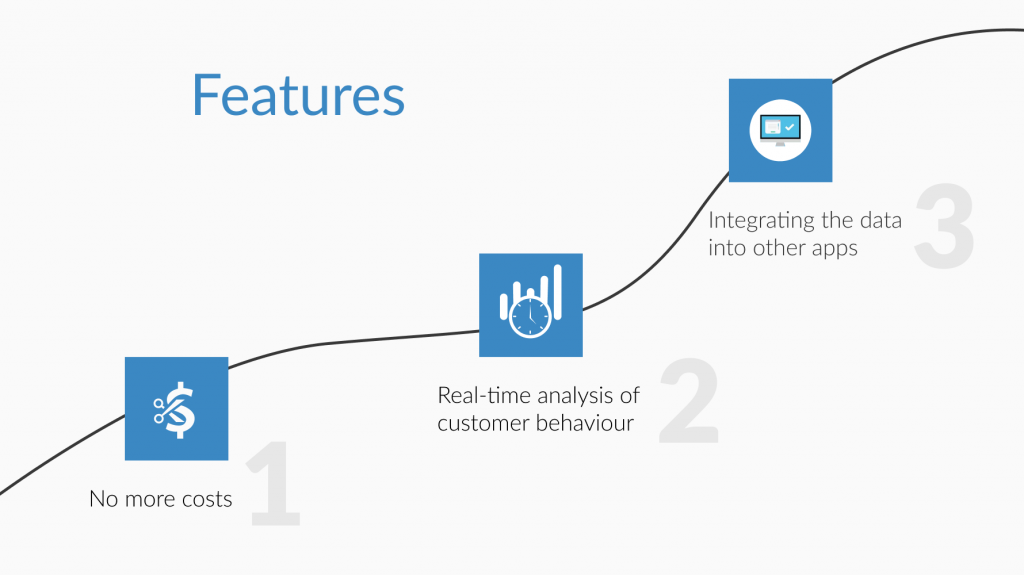 No business can operate without customers. Attracting new clients is an important area of business management. But retaining customers helps achieve great results. The application identifies critical users and develops the most appropriate marketing campaign.
The RFM segmentation analysis assists in understanding. Analyze which part of your customers is loyal or on the losing end. To increase the effectiveness of your promotional campaigns, use individual email newsletters. Since RFMcube is an action-based tool, you can use it to build triggers and automate when needed.
What is the first step you can take towards optimizing your marketing campaigns and increasing business profitability now? The easiest and most promising solution is to test out a subscription to the RFMcube app! Start moving towards your goals with us!
Apart from that, you will find much information on customer segmentation. 
What is the difference between RFMcube and our competitors?
Customer feedback speaks best about the effectiveness of any application. Based on them, you can make updates and avoid errors in the future. It means that client confidence and transparency of cooperation will only increase.
The main "feature" of RFMcube is the ability to segment your customers in real-time. Apart from that, it can collect information based on three basic parameters of behavior. Moreover, developers, as well as customers, are users of various software. They understand that creating a simple and intuitive menu is the main task.
Compared to our competitors, the RFM solution is designed to be simple and tailored. The platform suits entrepreneurs who want to improve business strategy. They must analyze and integrate many data sources ingeniously. But it lacks the depth of analysis and segmentation. Unfortunately, you cannot segment audiences based on purchasing behavior. 
In other words, RFMcube is an innovative platform with a simple, user-friendly interface and 24/7 customer support. It's an exceptional tool that allows the creation of e-Commerce customer-base segmentation. Setting up with API-key is reasonably fast. It is considered one of the best software to segment the user database.
Maybe this is the best time to bring your business to the next level of development? Think about how much time you'll spend creating customer segmentation.
Manually and whether the result will be as effective as marketing automation. Many business owners can provide evidence of the successful use of RFM analytics. This platform is an efficient and valuable tool for analyzing your customer base.
Tracking customer experience and synthesizing data is only half the battle. Learning how to use analytics in your work is even more challenging. Implementing innovations requires certain efforts. You must change established processes, break stereotypes and appoint approaches to work. Another difficulty is also related to the human factor. The larger the company, the higher the level of command.No one likes to bring bad news. So, collected analytics should be integrated into the reporting system as much as possible. This will avoid misinterpretations and reduce the burden on employees.
Do you want to experience all the benefits of RFM analytics?
Don't miss your chance!