in collaboration with the partner agency: Ecommerce School d.o.o.
The problem
Myselleria.com is an online shop specializing in sales of articles and equipment for horse riding.
Their e-commerce is multilingual and it is built on 6 different domains: .it, .com, .co.uk, .de, .at, .us.
With almost 30% of orders made from abroad, it is essential to create a multiple-language email funnel that would work after the first purchase by a customer in order to maintain contact with clients and encourage them to make new orders from their country .
The solution
The Ecommerce data has been integrated into Rfmcube and the customers have been divided according to the Recency, Frequency and Monetary values.
After that more specific segments were created on the basis of "shipping address" to identify new customers who have just made their first purchase from each nationality :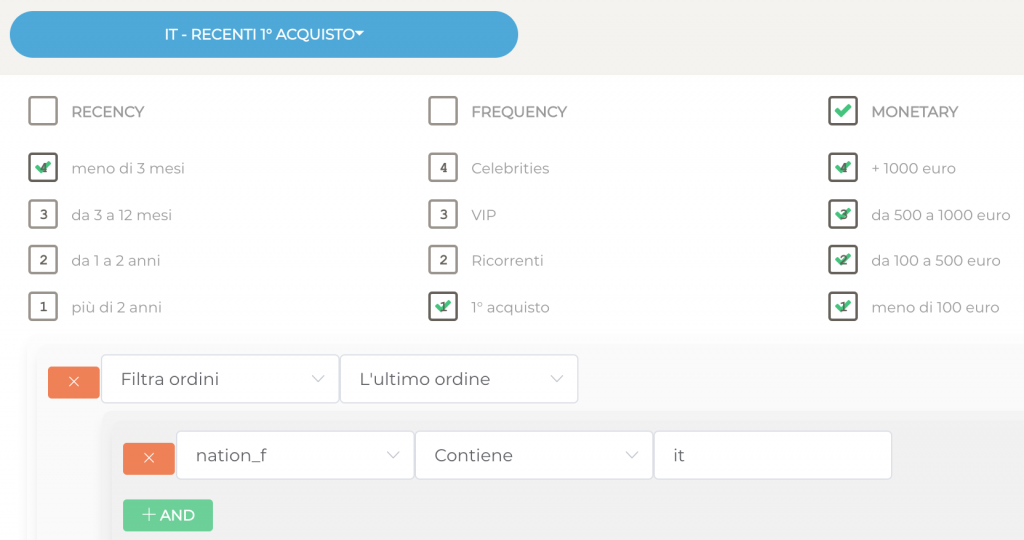 Why the decision was to use the "Shipping Address" field instead of simply giving accent to the type of domain from which the purchase was made?
The reason is as follows: it often happens that a customer, e.g. German, orders from the .com site instead of the .de because he lands on the .com domain and does not know that there is also the German version.
Even in case of users from the United States (who therefore browse only in English), it is better to direct them to the .us domain for subsequent purchases rather than to the .com, since there are changes in prices and availability of products for overseas shipments and you risk to create confusion unless you provide your customers with this kind of information in the right way.
In this way, foreign customers, despite having accidentally purchased from the .com site, will be communicated to directly in their language along with the product catalog aligned with their country of dispatch.
Segments for nationalities were hence created in the following terms:
Italy (.it)
Austria (.at)
Germany (.de)
England (.uk)
United States (.us)
All the others (.com)
Taking advantage of 
1-Click
 integration of Rfmcube with Sendinblue.com
, on each of these segments a personalized flow of emails was started after the first purchase was made. This showed coupons usable for the next order, recommended products based on the purchase made, riding tips and much more: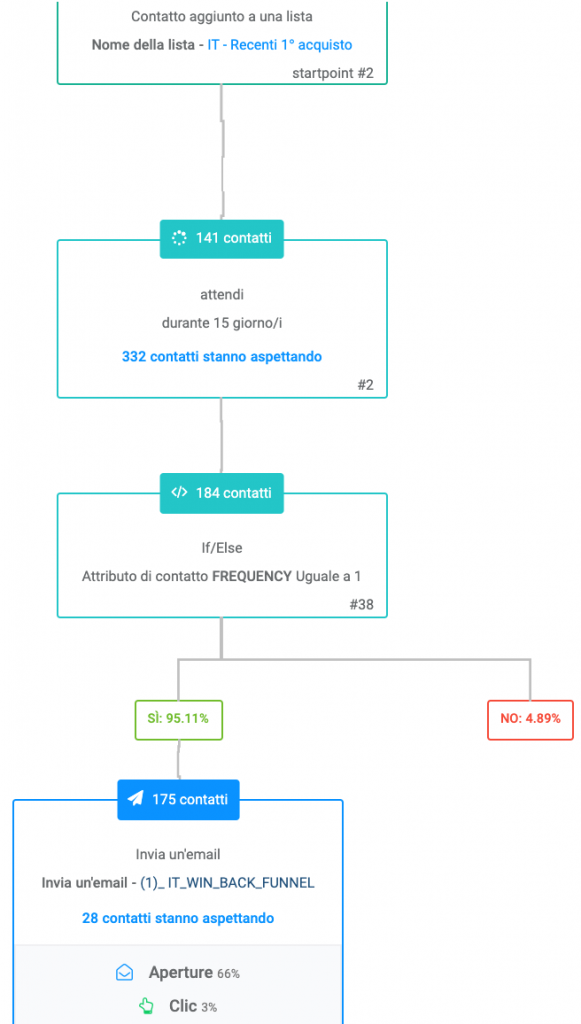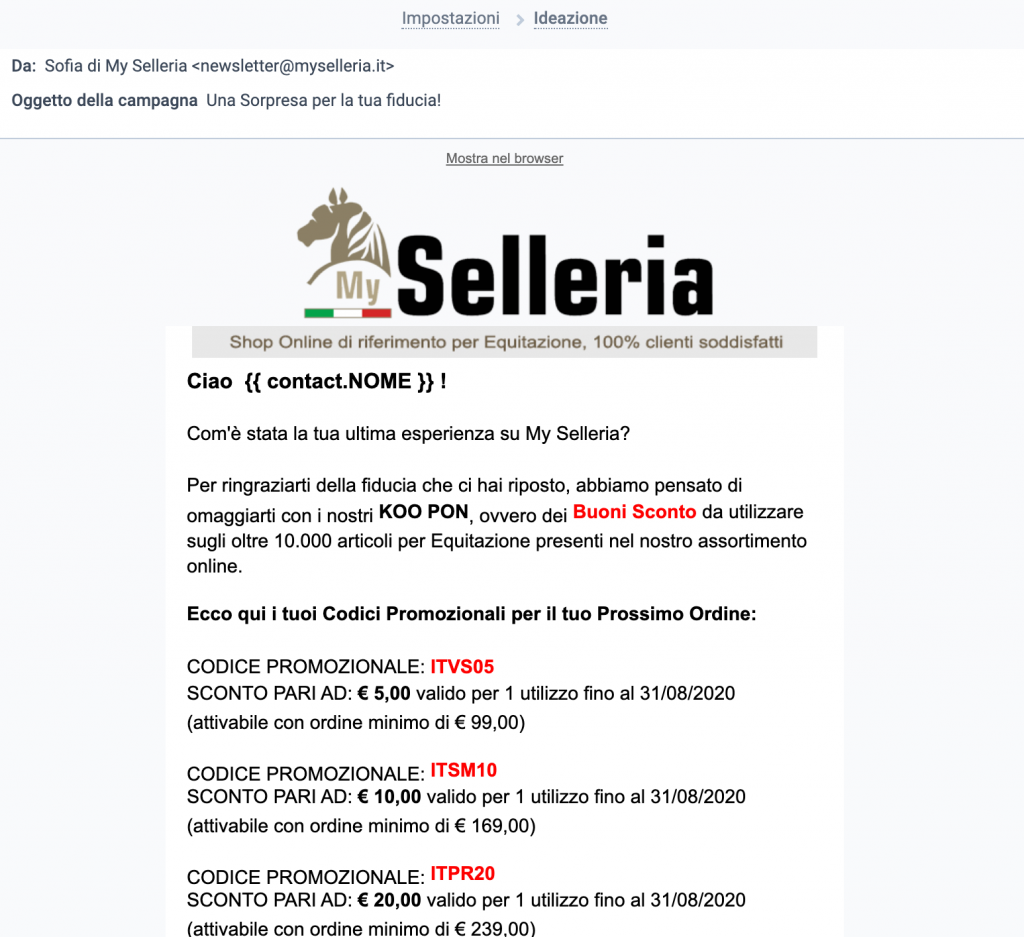 Whereas for the German customers it becomes: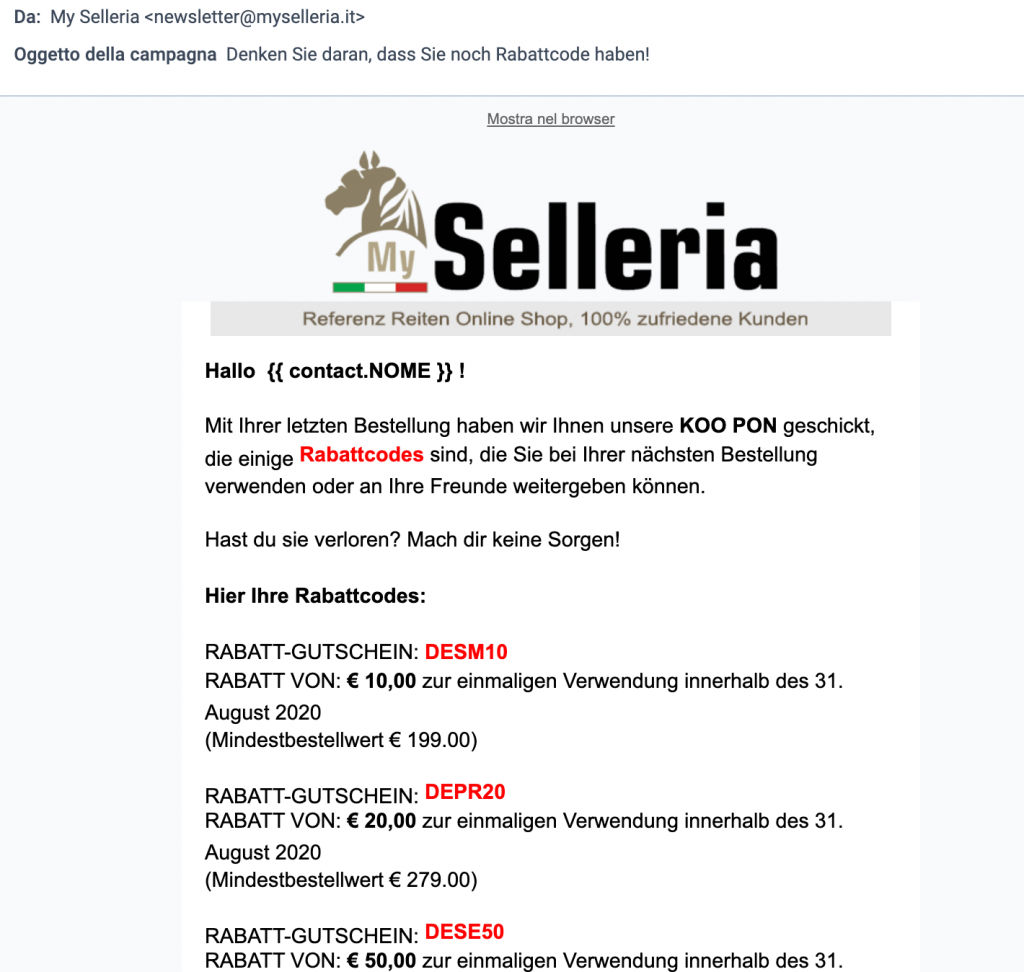 The email funnel functions over the months following the first purchase, alternating nurturing emails (guides, tips etc.) with discounts for the second purchase.
The emails also feature dynamic products (generated by the Bunting.com platform), such as browsing history that can be seen in this funnel email addressed to customers from the United States: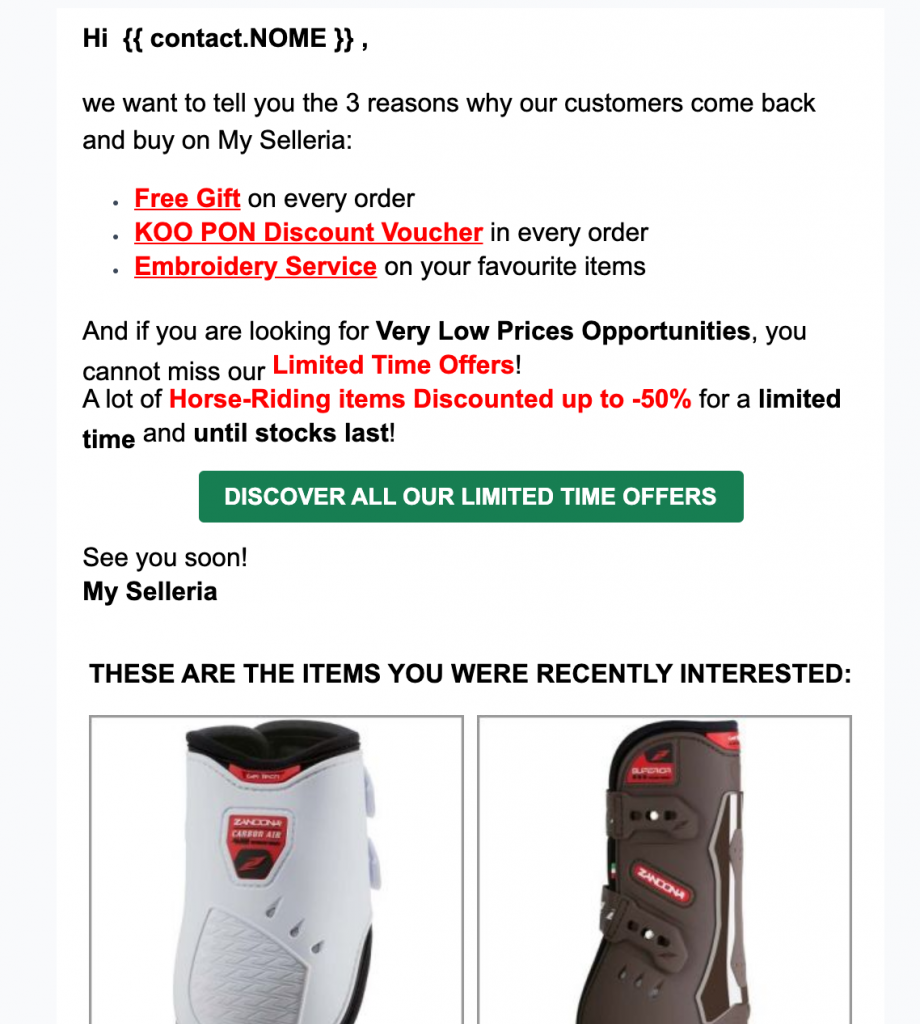 Results
After 6 months of having the Win-Back campaigns activated, the results are far-reaching: there has been generated a new traffic channel with a high conversion rate.
Funnel .it:
click rate: 7,8%
conversion rate: 5,38%
Funnel .uk:
click rate: 7,9%
conversion rate: 11,11%
Funnel .com:
click rate: 11,3%
conversion rate: 4,88%
The aggregative data on the general performance of the email marketing channel also proved successful:
conversion rate: 1,25% (+ 75% rispetto alla media)
entrate generate: +11% extra sul totale
Thanks to RFRMcube, My Selleria managed to establish an in-depth management of its international database segments having defined the real value of its customers and having lead them in automated funnels with high conversion rates. Indispensable tool to maximize the results of your e-commerce strategies. Damiano Giraldo – Digital Marketing Specialist – Myselleria.com