Automation is super helpful in marketing performance on par with tools that save your time, effort, money, and nerves while increasing productivity. Marketing automation allows you to manage your marketing campaigns without interrupting the rest of urgent significant duties that are important to handle on your own. Whereas you might be an administrator, salesperson, or marketer, the list of responsibilities goes on and on. 
Marketing automation gives space for a highly efficient time-saving environment, creating, administering, and automating functions and communication channels for various marketing purposes. Every ecommerce marketing automation software should have three constituents, i.e.: database — information to be collected stored in order to know important details about your customers, their preferences and etc.; system for action coordination; and ecommerce reports creation.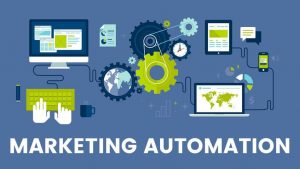 Useful Statistics that can Help on the Way of Exploring Automation for eCommerce
There's an interesting fact stating that over 49% of businesses apply to email automation tools with the purpose of keeping consumers updated. Perhaps it is one of the best approaches to inform customers about relevant information regarding your brand. The more interesting your newsletter is, the more likely your shoppers convert.
Notably, while 80%  of ecommerce using marketing automation already evidence increased leads, analysts report that by 2022, more than 80% of all advertising processes are going to be automated. Isn't it a tip for us to stop superfluous movements and ease our life with marketing automation? It definitely is. Don't put it on the back burner and start going in tune with the times if you haven't done it yet.
Catchy benefits of Ecommerce Marketing Automation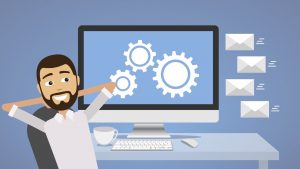 Take a look at the key advantages:
Efficient timing. One of the most obvious upsides is that automation saves you time. Having released from dull monotonous work like maintaining databases, generating reports and designing workflows, you can hurl all effort into running your business. This will not only win some time for employees but will boost their productivity. A happier team becomes more hard-working and obtains an ability to focus on creativity. The ultimate outcome is that automation will inevitably make you and your employees freer and allow them to get more out of every hour spent.

Cost saving. With marketing automation software that is taking on some of the marketing obligations, you can ensure you perform more and do better with fewer employees. Accurate customer acquisition technology and wise customer segmentation turns one marketer's power into dozens significantly reducing the expenses you have to spend to keep the work going.

Avoiding mistakes. We all are prone to making mistakes, and can simply mistype something without paying attention, which might eventually lead to horrible troubles. A software never feels exhausted, so we needn't worry about making mistakes as long as you implement automation into your ecommerce marketing routine. 

Increasing involvement. As a result of personalization, the quality of service you give is appreciated by customers and improved at multiple stages of their purchasing journey, leading to enhanced conversions. It goes without saying that marketing automation for your ecommerce allows for identifying the most engaging outreach campaigns and content, as well as a better understanding of buyer's experience. Thus, you can determine potential roadblocks and see your ecommerce welcoming a customer flow born from extensive interaction and support optimization.

Continuous improvement. When it comes to levelling up your processes, automation has a double advantage. First of all, you're getting a better overview of marketing operations and activities you perform. Understanding the way one factor affects the other makes it easier to understand which methods resonate most with your customers. You needn't force yourself to do the job, as you can create and then test your campaigns with a greater frequency and on a steady basis. Increasing the frequency, in its turn, gives you more opportunities to make your dream marketing strategies come true.
While there is a plethora of eCommerce automation tools all around, it is imperative to have a centralized marketing platform that is adjusted to your demands. When you're looking at the various automation tools and trying to choose the one that's an ideal suit for your business, be sure to find a solution that, as a piece of cake, integrates with your main sales platform to transfer data between marketing and purchasing. By effectively sharing this data across multiple functions in your organization, you can continue to grow your business with eCommerce marketing automation that offers great experiences and keeps customers calling and texting non-stop to come back for one more purchase.
Do you want to have your customers ordering non-stop?
 >> Jump on the right track with a free 15-days RFMcube trial <<